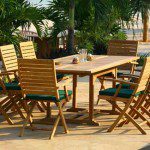 There are choices when it comes to wooden patio furniture. Outdoor living is essential for relaxing, reading a book, and catching up with old friends and family over a delicious dinner. Depending on your patio furniture needs, there are a variety of pieces you can add to have a beautiful outdoor setting especially if you prefer wooden furniture. Let's look at some of the available options that you have when wanting to furnish your outdoor living space to make it into that perfect sanctuary.
Wooden Patio Furniture:
A good, solid wooden patio table is essential to any existing or new patio or garden décor. Typically a great choice for areas that are covered with grass, this furniture piece is the center of attention. If you have an interlocking brick, patio deck or paved patio, you can also add this in depending on your preference and style however, we believe that a wooden patio table is best used when it comes to having a natural setting such as a grass. Note the following though: consider the weight of the table. Make sure that overtime; this does not sink into the ground. You can reinforce the ground by adding a small crushed rock pit at the base of the table, making a circular area for example and combine that with the grass surrounding. This will give you a very beautiful base that can take more weight and a unique décor in combining two elements together. Take account of your climate and cover your table to maintain it over time. We recommend having a coat of all weather resistant sealant applied on a regular basis to keep your wooden table looking great. When it comes to picking up the right table, shop around. Depending on your budget, you should be able to get a good deal at your local furniture store when shopping for wooden patio furniture. From our experience, look in the local newspaper as some of the smaller wooden furniture manufacturer do make custom furniture to suit your needs. Paying a few dollars more may be worth it especially if you get good quality wood that can last longer. You can also influence the design to make it more personable and unique.
If you are looking at adding a deck, a wooden patio deck is great choice and most times the preferred choice for many homeowners. A wooden deck does not only look beautiful when finished but it's also easy, fun and a cost effective way of adding an entertainment area to your outdoor living. If you are considering this, the wood material recommended is pressured treated wood. The reason for this is that, it's long lasting, is available in almost every lumber or furniture store, in various grades and dimensions. If you are looking for a higher wooden furniture material, you can go with a Red Cedar or Redwood option keeping in mind that these are more expensive. Depending on your budget, all are good choices with the Red Cedar and Redwood being the best for their resistance to decay. The Red Cedar wood will require more weather treatment, sealant so keep that in mind. Building a wooden deck does not take long. Available woodworking plans for decks and patios are available online. If you are handy, you can draw one yourself in no time. Just make sure that you measure properly. You'll be surprised how much time and money you'll save if everything fits well together at the first go!
In addition to wooden patio furniture such as patio decks, you can also take advantage of wooden patio steps. Recall seeing a beautiful picture in an outdoor living magazine that had beautiful steps going from the main house to the garden? Well, you can achieve the same by having a wooden path to your favorite garden, a specific area or leading to your main patio. This does not have to be lengthy. Placing a few flower pots on each side and painting your wooden steps a rich color can add a nice décor in addition to your main patio. Consider this and you'll please all your guests coming through and gain compliments along the way. Lastly, consider adding a few wooden benches on your outdoor living setting. These are best served in shaded area so you can relax in a different corner of your outdoor sanctuary. You can purchase wooden patio tables in a variety of styles. For example, you can go with a picnic table, a traditional wooden bench made for two or a very unique table top like bench resting on two tree trunks. It all depends on your taste, budget and the size of your patio. As seen, the choices are endless when it comes to wooden patio furniture for outdoor use.