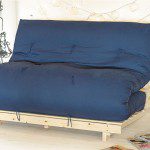 There are a few choices when it comes to futons. First, one can pick a wooden frame futon. Second option is a metal futon following a foam and spring mattress frames. The wooden futon along with the metal frame are both more durable and rigid so we are recommending these when considering purchasing. So, let's look at some of the benefits that wood futon beds can provide to any room setting.
Wooden Futon Beds:
The two common reasons that people buy furniture are style and space usage in the best way possible. Some people like to use wooden futon beds instead of a traditional sofas or sofa beds. A futon is versatile thereby making it a great addition to any room from a living room, office, a student dorm or a child's room. The benefit of having wooden futon beds is that it takes less floor space compared to a proper bed, think king or queen size. If you are furnishing a smaller room, a futon bed is the best choice to free up space and use that for an extra dresser or desk.
Additionally, futons come in all sizes and shapes making it easy to furnish a room regardless of its shape and size. For example, you can purchase a double futon which is similar to a full size sofa. You can then use this to convert it into a double bed, always a convenient option to have especially if guests are staying the night.  Speaking of that, having this temporary solution of having an extra bed is another reason why futons are so incredibly versatile and convenient.
Wooden futon beds come in various shapes and sizes. You can select a single, double and corner unit for example. More modern futons come with side accessories such as magazine racks. Matching coffee tables and shelving are added benefits that you can mix and match with a futon. Cost is another added benefit. When compared to a full sofa, a futon bed can be purchased for less but it delivers the same benefits, if not more than a sofa. To get more life out of wooden futon beds, just replace your mattress with a new one. Replacing a futon mattress is a lot cheaper when compared to a double or queen size bad mattress.
If stains are a concern, rest assure that this can be taken care of by simply purchasing a futon cover. If you like to repaint your room and want your futon to match, just get a new cover and you'll be able to have a new decor in minutes! To conclude, a wooden futon is recommended due to its rigidity, durability and style. The benefits outlined include variety of sizes and shapes that you can pick from to furnish any type of room, the ability to used as a bed when needed and affordability over a traditional sofa. Mattress replacement is also cheaper when compared to a full size bed. Keep these considerations in mind when shopping for your next wooden futon beds and you'll be sure to pick the best investment for your furniture needs.