Our top wooden Christmas ornaments revealed! When it comes to decorating for the holidays, you want to use personal decorations that elicit wonderful memories of holidays past or decorations that are sure to create new memories, especially if you make them yourself or get the whole family involved. We've rounded up 6 of the best wooden Christmas ornaments so you can decorate your home with a personal touch.
Wooden Tree Base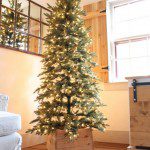 Whether you're looking for a more natural way to hide the base of your tree, or if you simply don't like tree skirts, you can make your own wooden tree base. It doesn't matter if you have a real tree or an artificial one, this DIY wooden tree base will instantly dress up any tree in your home.
Peppermint Striped Wooden Candlesticks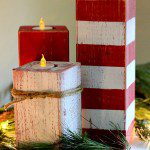 Using a 4×4 post cut into three different lengths, spray paint, and a drill, you can make these festive peppermint candlesticks. Distress the wood after you paint it for a rustic look, or leave the spray paint as is for a more modern look.
Wood Star Ornaments
For a simple, fun, and rustic wooden Christmas ornaments, make these wonderful wood star ornaments. These would be great to make with your family this holiday season to give your mantel or tree an extra personal touch.
Reclaimed Wood Snowflake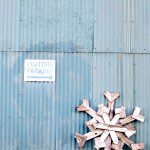 If you have a bunch of pallets lying around and you're not sure what you should make with them, why not create an oversized wooden snowflake to put in your living room or front porch? This rustic and stunning snowflake is sure to be a conversation starter at your next holiday party thereby making it one of the perfect wooden Christmas ornaments!
Rustic Christmas Tree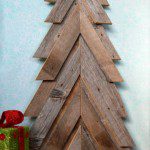 When you don't have room for a full-sized tree and you want to show off your DIY skills, this rustic Christmas tree is the perfect tree for you. You can take it to the next level by screwing in small hooks and hanging ornaments and lights on it. Or, if you're skilled with wood burning, you can create your own ornaments by burning them into the wood.
Twiggy Skates Ornaments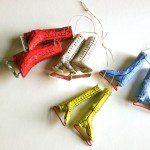 When you have an infinite number of twigs in your backyard or neighborhood, don't throw them away! Instead, make these adorable twiggy skate ornaments to hang on your tree, over your mantel, or from the ceiling light in your dining room. These are especially wonderful if you are celebrating your baby's first Christmas or your child's first time skating.
Article written by Kelly Mahan, also a writer for homeyou.com, a company that connects homeowners to reliable, affordable and professional contractors for their home improvement projects. Check more on Instagram, Pinterest and Twitter.
Social tagging:
hand made wooden ornaments for christmas
>
homemade christmas decorations
>
unique wooden christmas decorations
>
wooden christmas decorations
>
wooden Christmas ornaments
>
wooden christmas tree ornaments