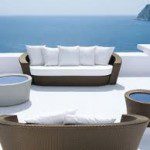 There are a few options when it comes to patio furniture. One of them is wicker furniture. To clear up the confusion, wicker is not actually a material but a way of doing or creating. When looking at the proper definition, wicker is a noun which is described as "pliable twigs, typically willow or woven to make items such as furniture and baskets". But, what is rattan then? Rattan is a vine that is lightweight and strong, typically found in Sri Lanka, Indonesia, Malaysia and Philippines' rain forests. Consequently, rattan wicker translates simply into material and process.
Wicker Furniture:
Compared to plastic, wicker furniture is much more stylish, durable and flexible giving it a very comfortable feel. Unlike other materials such as bamboo, rattan does not split and it's resistant to stains. It also absorbs paint well if you like to repaint at a later time. In terms of colors, there is a variety you can pick from including white, dark brown and lighter to honey brown. It is worth to note that is not recommended that rattan furniture to be used in the sun for years or rain as this may affect the material structure. Ideally, you'll be best to have these furniture pieces in a sun room or at least under a shaded area for your enjoyment. Given its light construction, you can also bring them indoors if need be. If this is an inconvenience, you can go for an all weather wicker set as these are available on the market also.
There's no doubt that rattan wicker furniture adds a beautiful decor to any outdoor setting. Given its versatility, you can buy dinning sets, benches, chairs, lounges, ottomans, sofas and rocking chairs. A medium to high quality wicker dinning set for 6 people will cost you about $1,200. You can also get a beautiful, all weather set such as the Outback Co. Taman bar height dinning set for $2,000+. Lastly, Tortuga by Wicker Central offers a great selection. You can check their pricing and products at Nextag for more details.
As with anything, it depends on the style that you'll like to achieve when it comes to your outdoor setting. Keep in mind that comfort is critical. We recommend that spending more for a good, quality and comfortable wicker furniture set is a wise decision in the long run versus buying a cheap, plastic set from Wal-Mart. Of course, your budget dictates this but if you can't afford it now, wait and get it at a later date, you will not regret it.
From adding character to comfort, a wicker furniture set can also be used indoors so you get more benefits and therefore, more value for your money spent. If you have a sun room for example, you can always move your patio furniture in when colder. Alternatively, you can use these pieces for indoor use such as a recreational room. Wicker furniture whether is for a patio purpose or indoor use will never go out of style and its durability and comfort is sure to please you and your guests every time.
Social tagging:
wicker chairs
>
wicker dinning sets
>
wicker furniture
>
wicker patio furniture
>
wicker rattan furniture
>
wicker rattan patio furniture