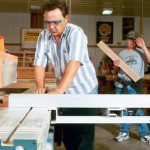 If you are new to woodworking plans, welcome. Regardless of age, woodworking is a fun hobby or profession if you think about it from a creative prospective. If you are new, you'll soon realize that woodworking plans are the blueprint for creating beautiful furniture. If you are creative enough, you can create these plans yourself of use already made plans. We suggest that you start off by purchasing woodworking plans if you're not comfortable with drafting these from the start. This will save you a lot of time and frustration and additional cost that you can avoid.
Woodworking Plans and Tools:
Before you beginning your next project, here are a few tips to keep in mind. First, ensure that you have the correct tools to start and finish the job. Although most woodworking projects use common tools some plans require you to have different tools that you may not have available. Double check this before stating the job. Some of the tools that you'll most likely use on a regular basis are:
Hand saws
Power saws
Chisels and gauges
Shaping tools
Workbenches
Measuring and marking tools
Drilling tools
Clamps
Hammers
Screwdrivers
Safety equipment (glasses, gloves, etc)
Second, make sure that you measure, measure and measure again. It's critical that your furniture pieces match and fit together properly. Imagine if you are 90 percent finished only to find out that a key component does not fit. Third, if you have a woodworking shop, make sure that your furniture piece you are building fits when transporting it into your house. It may seem silly but what if you build the most beautiful dinning table and you can't fit that through your door?
Four, smart small. Every skill needs to be perfected and the only way, especially when starting out is to get smaller projects completed and move on to the bigger ones. Once you are comfortable, take on more challenges. Lastly, remember that everything takes time. You will not be a master carpenter or wood expert builder in 1 week. Give yourself time and have fun at the same time. Woodworking is an art and it should provide you with the joy or relaxation while creating a beautiful furniture piece whether is a kitchen cabinet, dinning table or chair or even smaller wood accessories. View it as that, fun and you'll get a lot more from it than just being a "job".
Now that you have the basics steps in place, how do you go about purchasing woodworking plans? We have build a list for you to make it simpler and easier to see what's available on the market. Let's look at it below.
Table plans:
coffee tables, end tables, outdoor and picnic tables, sofas and others
Desk plans
computer desks, accessories, roll top desks and others.
Cabinets and chests plans
shelves, cupboards, cabinets display cases, jewellery boxes, bookcases and entertainment units
Indoor chairs plans
stools, rocking chairs, fix or swivel chairs, sofas, futons
Bedroom plans
wooden beds, dressers, nightstands
Child and baby furniture plans
children' beds, toy chests, high chairs, swings
Outdoor furniture plans
swings, gliders, sheds, decks, cabins, garages
As you can see there are a lot of resources when it comes to woodworking plans. Make sure you pick the right ones for your needs. Again, to summarize, start small. Build up your skill by taking on smaller projects to start. Measure carefully, get the right tools in place and have fun.