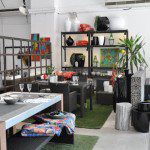 If you're looking to justify why modern wood furniture  is among the best furniture choices look no further than timber and its benefits.  The benefits are: durability, character and warmth which all wooden furniture has been know for. And who understands this better than Scandinavians. Galanga Living has launched their wood furniture offering, complemented by superb craftsmanship. Galanga Living was founded by Gitte Svarrer and Elsebeth Spangsberg from Denmark and the company is all about Danish furniture design and contemporary homes. Their new modern wood furniture line is highly representative of the company's design philosophy.
This new line features beautiful, natural and old timber, also known as ironwood. Not only is this wood known to be extremely hard-wearing, it is also undoubtedly a raw material to be treasured. The best part yet, no trees were harmed for this furniture line. Instead, the wood is derived from decommissioned wharfs in Denmark where timber is salvaged and transformed into usable and stylish furniture. Given it eco-friendly nature and its refined proportions, this wooden furniture collection is unlike most timber furniture which may bring to mind rough and bulky aesthetics.
On the contrary, these sophisticated wooden pieces boast a stylish combination of natural beautiful wood as tabletops and raw galvanized iron for table legs. This contrast of warmth and cool offers a unique contemporary yet rustic look and makes for great indoor and outdoor environments. Whether you're searching for a long and sturdy wooden table for your conference room or personal dining room, or quality furniture for your boutique or cafe, you can be sure that you'll be able to find something unique and suitable at Galanga Living.
In addition to the ecological ethics and friendliness, fine aesthetics and hardy materials used, the best part about the new collection at Galanga Living is the promise that each furniture piece will last for years. And not just last, but evolved from a modern wooden furniture piece to a beautifully aged and unique piece whose natural cracks in the wood offer life and texture with its very own uniqueness and history. If you are looking for a modern wooden furniture table of other pieces with a European inspired design, look no further than Galanga Living for their beautiful, eco-friendly wooden furniture line.