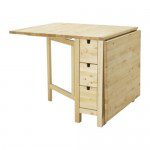 Everyone is aware that IKEA Norden Table focuses on simple and affordable style and design especially when it comes to wooden furniture and wooden tables. An example of such beautiful wooden design is the Norden Gateleg Table and its minimalism with ingenious flair, appending six drawers underneath a drop-leaf dining table. So what is the result of this beautiful, simple wooden table? Homeowners can now enjoy maximum space savings yet flaunt a classy, understated dinning room. So let's look more closely at Ikea Norden Table:
IKEA Norden Table:
With the option of raising one or two leaves of the wooden dining table, or none at all, this IKEA Norden Table  offers great flexibility. Designed to seat two to four people, it has a minimum length of 26cm (10 inches) that can expand to 152cm (60 inches), coupled with a width of 80cm (31.5 inches). The six drawers under the table provide additional storage space for your cutlery, placements, napkins and other paraphernalia. Made of clear lacquer solid birch, you can be sure that this IKEA Norden Table is hard-wearing and easy to maintain.
So who's this wooden dining from IKEA best for? The IKDEA Norden Table is excellent for homeowners on a budget. With its low price but high adaptability  it will appeal to those who are searching for more bang for their buck. Of course there are a lot of choices when it comes to wood dining tables from Ikea and you should consider all when shopping around. However, as mentioned, the versatility of the IKEA Norden Table is great as you could use it as a dinning table, or even tuck it in a corner of your study so there's space for a craft work (the drawers are great for buttons and fabrics) when inspiration strikes! So if you're looking for a good, affordable wooden dining table, we recommend that you take a look at this table without hesitation.