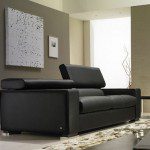 A leather sofa is one of the most classic and popular furniture choices for any homeowner. A sofa entails versatility, style and comfort at its best. Available in various colors and leather grains, most furniture stores are sure to cater to your needs. A sofa instantly gives a class of touch and a massive amount of appeal to any decor. There are a few things to consider when purchasing a sofa. These are: price, color range and design. Of course comfort and durability are a given priority. This article focuses on the first three criteria though.
Leather Sofa:
Affordable leather sofa collections are offered more and more now given the competitive nature of the furniture market. Once considered a luxury item, the leather sofa has come down in price due to better manufacturing practices and material cost. You can now get a good quality sofa in the price range of $800 to $1,000.  As an example, a black leather sofa set including a loveseat, chaise and ottoman can be purchased for $846 with a sale price of $761.39 from Sears. The Soflex collection leather collection is also a good choice for quality sofas with prices of $799 and up. These are available at Target however, do call to see if available in your area. If you are looking for more upscale Italian leather sofas we recommend the Ferraro Belagio Collection and Natuzzi Rocco sofa which is beautiful and worth the price in the long run. Available at Sears, the Natuzzi collection is sure to please the mid to higher price range conscious consumer.
Manufacturing advances and material availability make it possible to get sofas in various colors. In addition to the traditional black, brown and hunter green consumers now have better choices in color such as red, cream, yellow and navy to suit any need. Sofas that are a combination of leather and fabric offer more colors and design options. Given that leather is a natural material, no two hides are identical. For example, if dye is used in the process, different leathers react differently resulting in color shading variations.
Largely speaking, sofas come in different collections or styles: traditional, contemporary, lifestyle and western to name a few. Each design adds uniqueness to a room. Once you know what you like, feel free to browse around for the best piece. The traditional sofas are typically offered in reach colors with a worn out look. Having a reach brown set in a recreation room with a fireplace and warm décor spells nothing but relaxation. Looking at the variety of style, we have corner and recliner sofas also. A corner sofa may not fit well in all rooms types so consider the room layout before making a final purchasing decision. Recliner sofas provide the ultimate comfort as they enable the sitter to recline and rest on the footrest provided.
A leather sofa is the center of any living room. Given the affordability, variety of colors and design, you can purchase a piece to fit a recreational room, sunroom, office or any other rooms in the home to create a stylish and comfortable environment. Given the sales offers around, be sure to check out your furniture store for an elegant and comfortable new leather sofa.