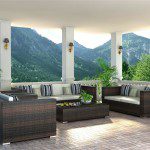 Unlike with indoor furniture, choosing modern outdoor furniture for small spaces is a bit more complicated. You see, with indoor furniture, all you need to think about is your preferred size and design, but for modern outdoor furniture for small spaces, materials and finishes must also be thoroughly considered. This is to ensure that they will last for a long time through the peaks of the four seasons and nasty inclement weathers. Of course it all depends where you reside and the care level for your outdoor furniture. So, let's get to it and see what works best for your patio furniture.
Top 5 Modern Outdoor Furniture for Small Spaces Revealed!
Patio Seats 
Sectionals, sofas, benches, and lounges are great outdoor seat choices that will serve your family and friends well for simple get-togethers and outdoor parties. Outdoor modern furniture of this kind made with painted steel, woven resin wicker, hard woods such as acacia, and resistant woods like rattan are an especially good choice. Rattan modern outdoor furniture for small spaces is also a great choice as you can easily move the furniture around to fit your setting. If you are going to pick wood, however, make sure that they come with multiple finishes, which increases their durability.
Patio Tables
Occasional outdoor tables may include side tables, coffee tables, and bistro tables. These modern outdoor furniture often come in glass, steel, or wicker. However, if you want a piece with more personality for your home, then you ought to consider one with more eccentric designs such as those that are moulded or carved with intricate pattern. Tables that uses vinyl, plastic, fibreglass, and cast stone are also good choices for unique table since they are versatile. We recommend wicker as it is a great solution for modern outdoor furniture for small spaces. Not only is wider resistant to weather conditions, it is also easy to manoeuvre around and make the best of your limited space.
Patio Dining Set
Perhaps you have even more space to fill in your home? If so, then consider getting a set of dining tables and chairs. These will especially prove beneficial for lively barbecues or cozy dinners. Plain wood plank and steel benches and tables are often the primary choice for this furniture, but we recommend going for exquisite woven wicker or acrylic fibre chairs and glass-top tables. Paired with creamy white and warm wood colours, these dining sets exude a relaxing and inviting ambiance.
Patio Lighting and Decorations
To enliven your yard, pool, or patio and illuminate them once the sun sets, getting an array of lighting systems and outdoor decorations is a must. For lighting, consider light posts, LED globes and lamps, and fluorescent fixtures. Another great choice for patio lighting is solar based. For modern outdoor furniture decorations, we suggest bird baths and nests, planters, and fun statues like koi, gnome, or flamingo.
Patio Outdoor Heating
Most people take full advantage of their outdoor furniture lounges and dining sets during the warm days of summer. However, that doesn't mean that that is truly the only time you can have fun with them. With a nice heating furniture such as a propane gas and electric heaters or stone and steel fireplaces and fire pits, you can create the perfect atmosphere for a toasty autumn party or warm garden camping.
Modern outdoor furniture for small spaces does not have to be difficult to find or be unattractive. You can build a beautiful patio even in limited spaces. If you pick some of our advise above on the patio furniture, you'll be able to create a unique and comfortable space where you can enjoy countless hours with your family, friends or even reading a book on your own time. If you have any questions on how to pick the right modern outdoor furniture for small spaces, let us know and we'll be happy to provide more tips!