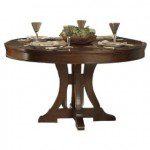 Many people assume that having a round wooden dining table  is not efficient in terms of space. However, contrary to this belief, these wooden tables can seat more guests due to their shape and make great furniture choices for awkward corners in homes or limited space available. The Art Deco round wooden extendable dining table does all that and more. This wooden dinning table is made of teak and has a beautiful vintage look. A closer look at the Art Deco Furniture:
Art Deco Furniture: Dinning Table
A perfect wooden furniture piece,  the Art Deco dining table combines both the antiquity and modernity in one. The dinning table originates from 1950s and it's wooden frame is pleasing to the eye especially given its reach mahogany color and smooth round edges. At 110 cm diameter, it can open up to form an oval table that measures 160 cm given its built in leaves. There is also a storage shelf below the table which is great for extra storage space for magazines, placemats or serviettes. If you are looking to add a touch of eclecticism to your dinning room look no further than the Art Deco wooden dining table which is sure to please the eye of any visitor.
This beautiful wood dinning table is not your cookie-cutter creation. The Art Deco furniture is sure to appeal to the vintage furniture lovers. While its wood design dates back to an earlier, romantic era it also addresses the practicality of today's modern day to day living. Its storage areas and the size fits beautifully in smaller, modern apartments for example. If you are looking for a piece of wood furniture to appeal now and in the future, this might be it.  To complete the the entire dining room, consider adding four elegant wooden  chairs or wicker dinning chairs to complement this beautiful table. Add an elegant vase and you are ready to entertain your friends and family.