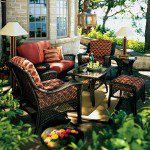 Patio or outdoor furniture is essential in having a stylish backyard. Whether is a wicker, teak, wrought iron, aluminium, rattan, plastic or wooden furniture, an abundant choice is available when it comes to furnishing your patio. With so many choices around, how do you pick the right outdoor furniture? This article looks at all the options available so you can make an informed decision.
When looking at the overall outdoor furniture offering, we have the following: tables, chairs, lounge chairs, wooden or metal swings, hammocks, patio dinning tables, bar tables and stools. The material used is however different for each or most of the furniture pieces mentioned above. For example, you can get chairs and tables in plastic, wicker, wood and steal to name a few. There is no "best" material as each provides its own benefits. Wooden furniture, rattan or wicker has always been great choices for beautiful backyards for many home decorating enthusiasts. It's not hard to realize why this is a better option over plastic or steal. Wood is generally rich, easy to clean and if maintained properly it can last for years.
Another critical factor to consider when furnishing your patio is space. As simple as it may seem, many people do not take this into account before making a final purchasing decision! Have you been to a friend's house or acquaintance and found that there's so much furniture around that you can't move around freely? Don't be that person. If you have a smaller patio, don't get an oversized patio table or dinning set for it. You'll be better off with a smaller to medium size set so you can move around. If space is still available, you can fill this with a few beautiful lounge chair or a few big flower pots. If you have the luxury of space, it makes sense to get a large dinning set.
However, we recommend something different. Take account of your entertaining crowd on average. If space permits, get a medium set. This will allow you to build in a bar area that you can enjoy in addition to your dinner table. You can make this an island bar with four bar stools and a few patio chairs around and voila, you have two locations that you can entertain in now.  If you have children, hammocks and swings are a fun choice. No children or nieces or nephews running around? Don't let that discourage you from getting a hammock for your own enjoyment. Nothing beats a good read (and a sleep) in a hammock under a breezy shaded area. Lounge chairs are a necessity if there's a pool around.
Style and comfort are the two most important considerations when picking the right outdoor furniture especially if you are a plus size person. For more information on shopping for outdoor furniture, see our  Plus Size Furniture Shopping article. Large chairs along with high quality cushions are important areas of consideration when it comes to comfort. Also, do you want a chair that swivels, tilts or that is fixed? Regardless of your need, keep in mind that your patio furniture should reflect the style that is shown throughout your house. For example, if you live in a refurbished 100 year old house with beautiful wooden floors we suggest a wicker or a nice wrought iron dinning set as this brings in more character. You can also go with a modern set if your house is newer. Design and home furnishings all depends on your taste and what you'll like to achieve but remember that material, space, style and comfort are the basic elements you need to consider before making your final outdoor furniture purchase.
Social tagging:
outdoor furniture
>
patio chairs
>
patio dinning sets
>
patio furniture
>
patio loungers
>
wicker chairs
>
wooden patio furniture