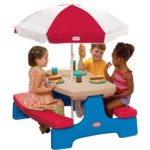 When it comes to kids wooden tables and chairs, there are a lot of choices but do you know how to go about picking the right furniture for you children? Since wooden tables and chairs are the common pieces needed to ensure a proper set up for your child, there are key elements to selecting the right furniture. Let's take a closer look at what's on the market so you can make an informed decision.
What Are the Best Kids Wooden Tables and Chairs?
One of the most important children's furniture you can get is tables and chairs. While you have literally thousands of choices, we think these kids wooden tables and chairs will give your children happiness and bring out their creativity:
`
Guidecraft Deluxe Art Center

Are you seeing hints of da Vinci or Picasso in your child? Then you ought to cultivate it further with this table and chair set. The table has a well on one side and a cabinet with more storage on the other, perfect for fun art and play sessions.
Fantasy Fields Magic Garden Set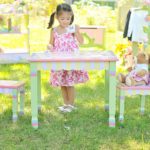 Let your little ones frolic in a fantasy kingdom with the Magic Garden Set. This set includes a table and two chairs in gorgeous light colors and adorned with cute-faced flowers and critters.
`
Lipper International Kids Desk with Chalkboard Top

Classy, sturdy, and affordable—these qualities make this kids wooden tables and chairs set a hit among many parents. The walnut shade gives it a rustic feel while the storage provides enough space for a single kid's art and school supplies. All the materials, including the chalkboard paint, are non-toxic to ensure children's safety.
`
KidKraft 2-in-1 Activity Table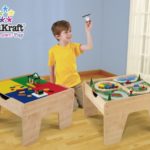 Children love to play. If you want to develop their imagination further and keep them busy and happy at the same time, this activity table will do you wonders. The board top is reversible: one side is Lego-compatible while the other features a painted landscape. This table comes with 200 Lego-like blocks and a 30-piece train set.
`
MacKenzie-Childs Wee Rocking Chair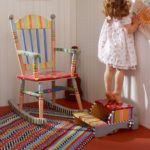 Featuring a splash of color and a party of polka dots and stripes, this fun rocking chair will add a touch of whimsy in your kid's room. It is made with hardwood solids and hand-painted using non-toxic paints.
`
Toddler Tables Kid's Toddler Table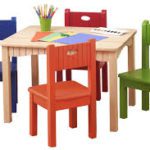 Do you perhaps have smaller children around several months to two years in age? If so, this kids wooden tables and chairs set is for you. The chairs are actually incorporated into the table, allowing the babies to eat and play without getting you worried about their safety. The table is low but offers enough space if all four seats are occupied.
`
KidKraft Octagon Table and Stools with Striped Umbrella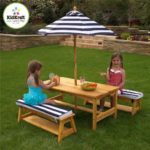 Summer days are the best days for picnic. Let your children enjoy some fun under the sun with this table and chair set. The seats are quite low, so they pose no threat in case the kids stumble backwards. While the set is delivered with a rough finish, you can easily stain it with your desired shade.
Certainly, you have more options than what we have laid out in this article, but why not create a perfect shopping list using ideas from the kids wooden tables and chairs we shared with you?  If you have any additional wooden furniture pieces that you think are great to add to the list above, please list them below!
Social tagging:
kids activity tables
>
kids study tables
>
kids table and chair sets
>
kids wooden tables
>
kids wooden tables and chairs
>
toddler table and chairs
>
wooden chairs for children
>
wooden tables for children