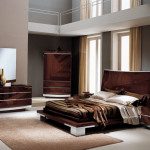 When it comes to modern bedroom designs, Italian design wooden bedroom set products are considered to be the most desirable. Featuring clean lines and fine details that undoubtedly radiate class, they easily complement other furniture and provide a warm yet sophisticated ambiance. If you are looking for, then look no further as we provide five of the most beautiful sets in the market today.
~
Matrix Composition 8 Furniture
Simple but refined. This is perhaps the best way to describe Camelgroups's Matrix Composition 8 set. Designed, constructed and packed in Treviso, Italy, the set features glossy, dark walnut finish and furnished with lighting and cream leather headboard tufted with Swarovski crystals. The base set comes with two nigh stands and slats while a chest and four-door wardrobe is separately offered for more storage options. One of our favourite Italian design wooden bedroom sets!
~
Tuscany Contemporary Wooden Furniture Set
Coming from ALF Group, a highly-regarded company producing outstanding Italian design wooden bedroom set products, the Tuscany Contemporary Set fluidly combines traditional and modern with its deep shade and smooth lines. The base set comes with a queen-size bed, two nightstands, a dresser, and a mirror. Should you require more storage options, you can also avail of the separate chest and media chest.
~
Empire Collection Furniture
Truly a symbol of opulence, the full neoclassical set includes a king-size bed, two side tables, a dresser mirror and table, a TV cabinet, a six-drawer cabinet, and a stool. All of these Italian design wooden bedroom set products smooth feature smooth lines and beautiful curves reminiscent of Late Empire style. It uses cherry wood veneers and bronze work, with a nice touch of French gold.
~
Serena Bed Group
Giving off a cool and calm aura, the Serena Bed Group made by Ben Company is the perfect choice for large homes. The set features fine details set atop black and silver-lacquered wood and includes two side tables, a three-drawer dressing table, and a four-door mirror wardrobe. Slim and slick, the set completes both traditional and modern-themed rooms.
~
Zaffiro Classic Set Furniture  
Searching for something to spice up the look of your bedroom? Then FPM Tuttomobili's Zaffiro Set might just be what you are looking for. It features delicate, raised designs adorning the head and footboard as well as its accompanying side drawers, mirror and dresser, and four- or six-door wardrobe. The Italian design wooden bedroom set products' intricate details, paired with the glossy white or mahogany finish, gives it a warm and artsy vibe.
~
Beatrice Set with Giro Bed
Not to be outshined, MCS Italia comes out with a chic bedroom theme with the Beatrice Set. This gorgeous set includes a high-quality giro bed, two side tables, a dresser and mirror, and a four- or six-door mirror wardrobe. All the furniture pieces included in the set feature beautiful curves and lining and can be obtained in cream or walnut finish. For a classy modern room, Italian design wooden bedroom set products are unmatched. Why don't check our product recommendations and see which will turn your ideal bedroom visions into reality?