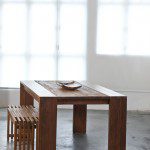 Who would have thought that old wood could be given a new life and restored to become a beautiful piece of furniture? Wooden furniture is magnificent. Seasoned, weathered, materials from houses, old barns and bridges are transformed into wooden dining tables, chairs, cabinets that are chic, and unique furniture pieces. Typically, these products are 100 percent FSC certified recycled or reclaimed teak wood.
The Fissure Dinning Table Set is one of such unique wooden furniture piece that captivates the soul with its raw and chipped paint, adding character to any dinning room. This expendable dinning table measures 150cm by 100cm and 270cm by 100cm when two leaves are put in place (note that 1cm = 0.39").
Apart from that, the wooden dining table set is also available in a made to measure version, ideal for a homeowner who loves to have a custom wooden dinning table to fit a room whether is style or size. Manufactured by hand, the table combines old and new in the most contemporary way.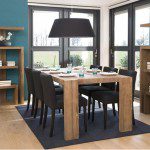 So who is this beautiful wooden dining table set for? For start, the Fissure table is an absolute must have for the eco-conscious homeowner. On the other hand, if you are looking for a furniture piece that truly makes a statement, this is it! The sturdy, stocky wooden frame anchors a space effortlessly. In conclusion, we love this wooden dining table set as it adds a very chic and unique character that is sure to please most settings.