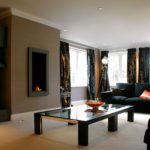 Dark Living Room Furniture Recommendations: Wooden furniture generally exudes a warm ambience to whichever room they are placed in. While light wood gives a humble, homely feel, however, dark living room furniture, and other dark wood furniture for that matter, radiates a more sophisticated aura. We compiled some information that will help you make an informed decision when it comes to darker furniture colours for your living room. Here are some suggestions:
Best Woods for Living Room Furniture 
If you are thinking of getting dark living room furniture, then you first have to know the best wood choices. Here at Wooden Furniture Hub, we believe these are the best materials for dark and urbane furniture:
Mahogany—a gold standard, dark wooden furniture made from mahogany tend to stand out with its deep shade and distinctive grain. It is generally expensive, but its durability as well as the classic designs and intricate details, especially carvings, it typically comes with make up for the price.
Walnut—be it American Black or European, walnut wood, with its flexibility, beautiful chocolate color, and simple grain pattern makes it a great choice for long furniture like benches and tables.
Rosewood—this wood is highly valued and has been previously restricted for importation. It features a deep, rich color with prominent black streaks, which create a desirable pattern that specially fits flat-board furniture, paneling, and veneers.
Ebony—if you are looking for dark living room furniture of the deepest shade, then grab one made with this. Featuring a pure black shade, Ebony is dense, has a fine texture, and finishes smoothly, making it the top choice for decorative furniture.
It is also worth noting that dark living room furniture need not have an actual dark wood base. So if you are partial to light-colored woods such as ash and holly, you can still enjoy dark furniture by getting them in dark stains such as mahogany or espresso.
Top 5 Picks for Dark Wooden Living Room Furniture
To give you a head start in finding the best dark wooden furniture for your living room, we suggest these lovely pieces we have found:
Hooker Furniture Preston Ridge Square Cocktail Table—made from hardwood solids and featuring two drawers and contrasting, black rub-through and cherry finish this furniture is heavy but easy to assemble.
Myakka Thakat Large Stool—made with hand-waxed Indian rosewood, it features soft curves incorporated in a traditional Indian design. High enough as a seat for dining or piano and perfect for showcasing your prized ornaments and memories.
Myakka Hathi Large Dresser—another beautiful piece from Myakka, this dark wooden living room furniture offers generous space for books, china, and cutlery with its three shelves, two drawers, and two-door enclosure. The doors are showcases hand-carved elephants, which give this furniture a whimsical feel.
Safavieh Kenneth Side Table—nothing short of classy, this side table draws inspiration from Spanish and Mexican influences and features contrasting edging and intricate drawer carvings.
Hokku Designs Alexandria TV Stand—simple in its black finish and matching brushed nickel knobs and steel hardware, Alexandria is able to hold your entertainment set with ease. It features raised panel doors, adjustable leg levelers, and five adjustable shelves.
Give your favourite room a subtle elegance with dark living room furniture. Furnishing your room should not cost a lot either, so shop around for suitable furniture pieces. Start your search with the choices we shared with you and you should be able to enjoy your new furniture with your family and friends in no time.
Social tagging:
best living room
>
dark living room furniture
>
dark living room wooden furniture
>
dark oak contemporary furniture
>
living room furniture
>
warm traditional living room