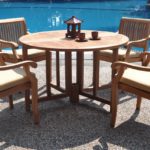 Cheap pati0 and outdoor furniture is not easy to find, especially if you're looking for durable, quality pieces. However, there are a few big box retailers and furniture stores that offer special clearance prices. The best place to start when consider cheap patio furniture is your budget. Cheap prices are all relative and vary across individuals and families that are looking to make their patio area more comfortable and enjoyable. What constitutes a good deal to one person may not apply to another.
To make it easier for all, we have established a patio furniture budget of $200. We're not looking at seating sets, sofas and sectionals, lounges, patio chairs, benches and hammocks. The criteria is simple: a patio table, four comfortable chairs and an umbrella. With this in mind, let's look at some of our best patio furniture deals that we found. Our findings are targeted to Canada and US stores that offer seasonal patio furniture.
It's also important to note that we're not picky about the actual material that the furniture is made of as long as it's durable and is weather resistant and preferably doesn't fade. So let's take a look at what we can buy for under $200 when it comes to finding cheap patio furniture.
Although we established a budget of $200, how about a 5 piece cheap patio furniture set that only sets you back $98! The Mainstays Cranston Patio Furniture in  not only cheap but it also gives you the opportunity to hold the chairs thereby making it practical for moving the set around and also giving you the opportunity to use the patio chairs are regular ones inside the house. The tabletop is made of textured linen glass which is resistant and easy to clean. The material is also weather and fade resistant so you don't have to worry about rust or losing colour.
You'll have to assemble the entire patio set but when you're only looking at $98, it should take much effort in getting this set up. The beauty of this is that it can also be used on your balcony since it's somewhat of a compact patio set. Save the rest of your money and invite your friends over for a bbq with this cheap patio furniture deal.
Can you believe that we found even a better deal when looking for cheap patio furniture? How about a 6 piece folding patio dining set for $88? Home Depot Canada offers an unbranded patio set that includes; 4 folding chairs, a table and an umbrella! The material is heavy duty steel frame that is rust resistant with weather proofed sling fabric. Not only do you get a sturdy patio set, you also get one-year full warranty of the set. The model we found is Model # DT-240124A. If you're considering that you can get a full set (including umbrella), if doesn't get any cheaper than this.
Lowes offers cheap patio sets but unfortunately it doesn't meet our criteria of 4 seats and a table. Worth noting is that, there's a patio set for 2 costing $184. This patio set is made of aluminium and is foldable. Given its material, it is rust resistant and you can easily use it for your balcony also. Its sturdy (it holds up to 250 lbs!) lightweight nature and design adds to ease of storing when not needed and the best of it is that no assembly is required. This helps especially if you're not a do it yourself type. It's a bit more pricey but if you're looking for a cheap patio furniture set that is of quality, we also recommend that you look at this in more detail. The model is Vancouver Classic PAT3061 Aluminium Slats Bistro Set.
This list will not be complete without our favourite furniture store, Ikea. Although Ikea is known for its cheap furniture prices, we were not able to find a patio furniture set for under $200, but we did manage to find a beautiful set for $209! So, you'll have to save that extra $9 to get this set but we strongly believe that is worth it given that both the chairs and the table fold flat which gives you the opportunity to store the set in tight spaces. This wooden patio furniture set has been treated with a layer of semi-transparent wood stain for added durability. The model is Askholmen and you can purchase it online from Ikea if you wish.
From all the cheap patio furniture that we researched, we recommend looking at Home Depot. Canadian Tire offers patio furniture sets but we found them to be expensive. Again, cost is a relative factor here but we did set the criteria at $200 for a full patio furniture set. Lastly, we also found Costo patio furniture sets to be higher priced when compared to other available options on the market.
Our last recommendation is to look at your local furniture stores and keep an eye out for patio furniture for discounts or clearance sales. It's always best to buy off season as the discounts are deeper at that time but not everyone can do that. Regardless of which patio set you decide, we hope that you'll pick the right one to enjoy for years to come. If you have any recommendations, we'll also love to hear from you. Please leave a comment below.