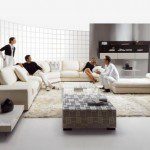 There are thousands of furniture stores in United States. How do you narrow it down to the best picks so you can save time and money? We have reviewed the top 5 furniture stores for your convenience so you can make an informed decision about your next purchase whether is from Ashley Furniture, Ikea or Ethan Allen. The criteria used for ranking these are based on: product offering, quality, price, online user friendliness and delivery.
Furniture Stores: Ashley Furniture
Ashley Furniture operates via Ashley HomeStores dealers which are independently owed and operated. There are three ways to shop with Ashley: by room, by style and by collection. The first option includes your basic living, bedroom, dinning room, home office and home accessories. If you like to shop by style, their Contemporary line offers the largest selection along with and metro modern, rustic, traditional and cottage to name a few. The furniture quality seems medium-high. Pricing wise, there's a great range of options thereby giving you the ability to shop for a good quality furniture chair, table or bed at a set budget. Note that there are no actual prices on their site due to their HomeStore dealer networks. It's best to locate a store near you and either visit their site, call or go in person. Sales are also offered but it all depends on your location and the dealer's promotion. Delivery also needs to be arranged with one of Ashley Furniture HomeStores outlets.
Furniture Stores: Ikea
Ikea is known for its affordability, modern and functional furniture. Its informative site outlines a full catalogue, assembly help guides, special offer opt in and live help. The user friendliness and the vast information along with a product catalogue gives them an advantage over other furniture shops. The main advantage of Ikea is price. If you are the "do it yourself' type and are looking for furnishing a room on a budget, this is most likely the best option. If you're looking for quality wood furniture, we recommend going with a higher price tag item or another retailer. As you probably know, Ikea is not the best option when it comes to home furnishing with quality furniture especially if you are looking for a unique wooden furniture product. Door to door delivery is available at a cost. We recommend Ikea for an office room, student dorm or a child's room.
Furniture Stores: Ethan Allen Furniture
Ethan Allen furniture line offers 5 signature lifestyles: elegance, modern, romance, explorer and vintage. The option to shop online is available thereby making this a very convenient way to get your favorite furniture piece from the comfort of your home. Pricing is in the medium to high range but the quality is high and worth the money. The overall product line is excellent and you can find anything from living room, dinning, bedroom, home office, outdoor furniture and accessories. The free design service, free shipping and delivery, financing options set Ethan Allen apart from other retailers. In addition to the free design service you can now create your own custom art so mix and match what you like best for one of your rooms.
Furniture Stores: La-Z-Boy Furniture
La-z-boy or lazy boy furniture as commonly know offers the most comprehensive comfort furniture around arguably. From sofas, chairs, recliners, loveseats, sectional sofas, sleepers and lift chairs, you are sure to find something that will not only look good in a room but also be very comfortable. The company has been around since 1928. The quality is high and the price range is medium to high. The La-Z-Boy site offers a 3D room planner, design tools and reach product information. If you are looking for a quality and comfortable sofa or recliner, we suggest that you look at La-Z-Boy for your living or recreational room needs. However, if you are looking at furnishing in a more modern, chic style, we recommend Ashley Furniture or Ethan Allen.
Furniture Stores: Value City Furniture
Value city furniture guarantees the best price around of they will double the difference according to their official site. The product line covers living, bedroom, dinning, mattresses and accessories to name a few. A full blown discount retailer, Value City Furniture provides just that, cost savings. If you are not picky about quality we suggest that you look at this furniture retailer as an option. For example, you can get a 2 piece sectional sofa plus an ottoman for $599. Bedroom sets are offered at $599+ also. If you're looking for a higher end product, we recommend going with Ashley or Ethan Allen. Where Value City wins is in the mattress selection so if you are shopping around for a mattress, take a look at their offer and you may be able to save on a brand name mattress. There's also a room planner available, financing and weekly promotions. No online shopping is available but you can print a product and bring it to one of their store locations.
Now that you have a better idea on what each furniture stores offer we hope that we made it easier for you to pick that perfect sofa, dinning set or perfect wood table or wooden accessories for your home. Our suggestions falls between Ashley Furniture and Ethan Allen for their modern, quality, price and additional designer tools made available. For comfort, there's no doubt that La-Z-Boy wins. Ikea and Value City Furniture are great furniture stores  if you are looking for lower to medium quality furniture to furnish a room at a reasonable budget.
Social tagging:
ashley furniture
>
best furniture stores
>
ethan allen furniture
>
furniture stores
>
ikea
>
lazy boy
>
value city furniture